Woman, found dead on the middle of the road, possible hit-and-run victim in Chiba
04/01/2022
CHIBA – Earlier today, a woman was found dead on a prefectural road in Chiba City, and police are investigating it as a fatal hit-and-run case.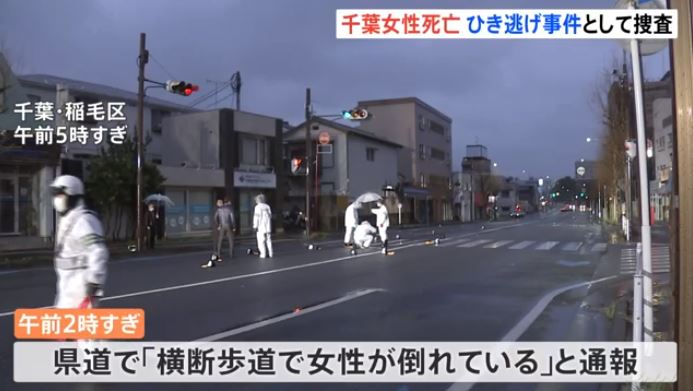 Woman, found dead on the middle of the road, possible hit-and-run victim in Chiba (TBS News)
Shortly after 2:00 a.m. today, a 110 operator was called to a prefectural road in Inage-ku, Chiba City, and reported that a woman had collapsed at a pedestrian crossing.
According to the police, the deceased, a woman in her 30s, was found dead on the spot with marks on her body as if she had been run over by a car or motorcycle tire. The woman was not wearing her purse, cell phone, etc. Police are investigating this as a hit-and-run case and are hurrying to determine how the woman came to the scene and her identity.
The site is a straight road with two lanes in each direction with good visibility, and there are few pedestrians on the road at night.
JN8 -JAPANnavi8-
Information site supporting foreigners living in Japan.