Temperatures in Iwate Top 29 Celsius; "Summer Days" Expected in Tokyo, etc. Today's Temperatures Rise Again
04/11/2022
Following yesterday, today is another hot day nationwide, with temperatures already exceeding 29°C in Iwate Prefecture, and "summer days" are expected in the Kanto region and other areas.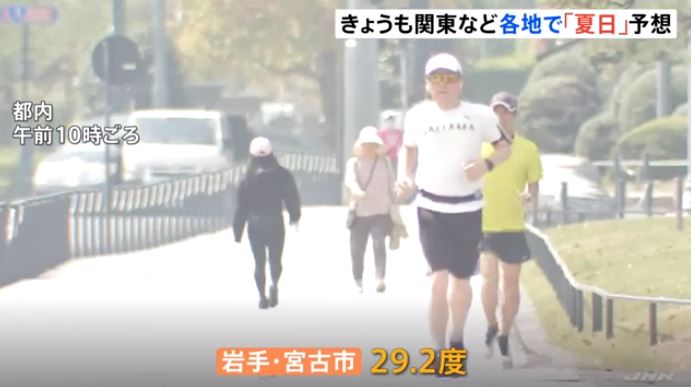 Temperatures in Iwate Top 29 Celsius; "Summer Days" Expected in Tokyo, etc. Today's Temperatures Rise Again (TBS News)
People in the city
It's summer already, really. I think I need to drink water often.
It's hot today. It's still hot without a parasol.
In Kumagaya City, Saitama Prefecture, a maximum temperature of 23.1 degrees Celsius was observed by 11:00 a.m. Nationwide, temperatures have been rising since the morning, with 29.2 degrees already observed in Miyako City, Iwate Prefecture, and many places, including central Tokyo, are expected to experience "summer days" with maximum temperatures of 25 degrees or higher.
On the other hand, rain clouds will develop in Kyushu, especially in the southern part of the island, and heavy rainfall with thunder is likely in some areas by the evening.
JN8 -JAPANnavi8-
Information site supporting foreigners living in Japan.