Chinese Man First in Japan to be Certified for Specified Technical Skills II: "I Can Live with My Family in Japan"
04/15/2022
GIFU – Weng Fei, 35, a Chinese man who works for a concrete pump company in Ono-cho, Kakamigahara City, Gifu Prefecture, has been certified as a "Specified Technical Skill No. 2" and is now a resident of Gifu Prefecture. A residence card was issued on April 13.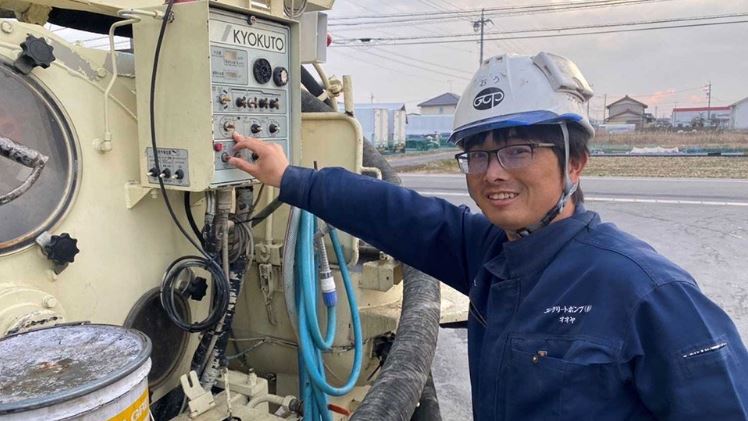 Chinese Man First in Japan to be Certified for Specified Technical Skills II: "I Can Live with My Family in Japan" (Gifu Shinbun)
According to Eco Project Cooperative (Yabuta-Minami, Gifu City), which provides support for foreign nationals with specified skills, Mr. Fei is the first case in Japan to be certified as a No. 2 foreign resident. Mr. Fei says, "In the future, I would like to invite my family in China to live with me in Kakamigahara City."
The Specified Technical Skills System is a residency qualification established in 2019 to accept foreign human resources who can make an immediate contribution in some industries where there is a serious shortage of human resources. Foreigners with a certain level of expertise and skills are certified as No. 1, while No. 2 is limited to two industries, "construction" and "shipbuilding/marine industry," and requires more skilled skills than No. 1, as well as passing a test and having experience as a foreman. Therefore, it is not easy to be certified.
Mr. Fei came to Japan in 2010 as a technical intern. He continued working at a concrete pump and was certified as a specified skill No. 1 in 2020. He obtained Level 1 of the Technical Skills Test and Level 3 certification under the Construction Career Advancement System, and met the requirements for certification as No. 2, including experience as a foreman. His application was accepted by the Gifu Branch Office of the Nagoya Immigration Bureau in February of this year.
At a press conference in Gifu City on April 13, Mr. Fei said, "I like companies that treat foreigners kindly. I can live with my family in Japan," he said, explaining his reason for seeking the No. 2 certification. As for his future, he said, "I can stay in Japan forever without any expiration date. I want to do my best to improve my career and study Japanese," he said.
Concrete Pump Vice President Takehito Kano said, "Fei-san is very diligent and leads the site. We are happy to be able to employ an excellent person for a long time. Miki Sawamura, vice president of Eco Project Cooperative, said, "There is a shortage of human resources in the construction field. I hope that many companies will create workplaces where foreigners can work comfortably, like concrete pumps.
JN8 -JAPANnavi8-
Information site supporting foreigners living in Japan.