Minicar ignores stop sign and flees, crashes into two trucks, two suspects fled
04/20/2022
TOKYO – Earlier today, a minicar was being pursued by a police car in Toshima-ku, Tokyo, when it crashed and the two men in the car abandoned it and fled the scene. The Metropolitan Police Department is in pursuit of the two men.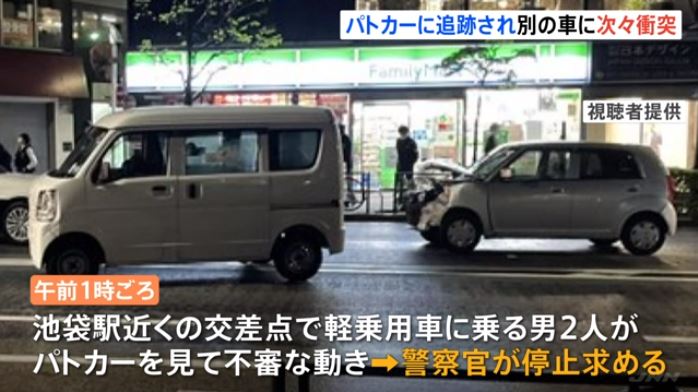 Minicar ignores stop sign and flees, crashes into two trucks, two suspects fled (TBS News)
Around 1:00 a.m. today, at an intersection near JR Ikebukuro Station, two men in a minicar saw a police car and moved suspiciously, prompting a police officer to stop the car. The minicar did not respond to the call and fled for approximately 800 meters, crashing into two trucks in the opposite lane one after the other.
A man in his 50s driving the light truck that was hit suffered a severe chest injury.
The two men abandoned their car and fled, and the Metropolitan Police Department is pursuing them on suspicion of hit-and-run and other charges.
JN8 -JAPANnavi8-
Information site supporting foreigners living in Japan.