Pedestrian struck and killed by police car; driver, 61-year-old lieutenant, arrested Shiroishi Ward, Sapporo
05/02/2022
SAPPORO – A police lieutenant driving a patrol car was arrested on suspicion of hitting and killing a pedestrian in Shiroishi Ward, Sapporo, on the night of May 1.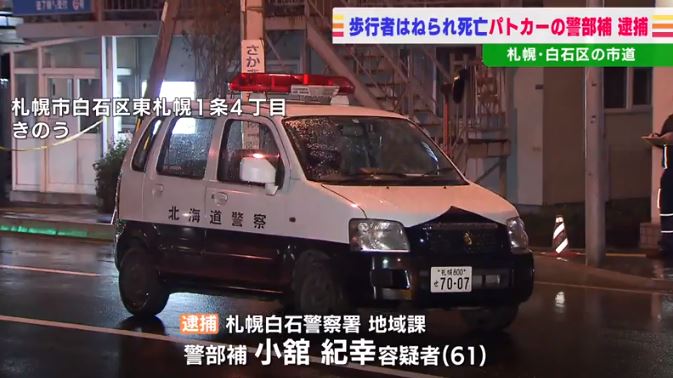 Pedestrian struck and killed by police car; driver, 61-year-old lieutenant, arrested Shiroishi Ward, Sapporo (HBC News)
Noriyuki Kodate, an assistant inspector of the Sapporo Shiroishi Police Department's Community Affairs Division, was caught red-handed on suspicion of striking and killing a male pedestrian on a city street in Sapporo's Shiroishi Ward shortly after 8 p.m. on May 1.
Lieutenant Kodate was on his way to the scene when he received a 110 call about a noise problem.
In addition, the scene of the accident was a straight two-lane road in one direction, and it was raining lightly, and Lieutenant Kodate said that he did not look ahead carefully.
JN8 -JAPANnavi8-
Information site supporting foreigners living in Japan.