Mother of the 3-year old child who died from assault, officially arrested
06/01/2022
SAITAMA – In the case of a 3-year-old girl who was left by her mother and others in Kasukabe City, Saitama Prefecture, and later died, we newly learned that the girl was believed to have been assaulted in the head a few days before her death.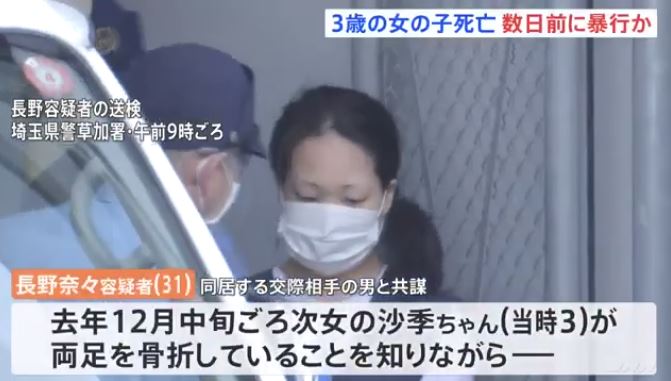 Mother of the 3-year old child who died from assault, officially arrested (TBS News)
Nana Nagano, 31, an unemployed woman in Kasukabe City, is suspected of abandoning her second daughter, Saki (3 at the time), in mid-December of last year, after knowing that she had broken both legs, in conspiracy with her boyfriend, with whom she lives with.
Saki was pronounced dead on December 29 last year, and the cause of death was a brain injury, with multiple bruises on the body's head.
Subsequent interviews with investigators newly revealed that the bruises are believed to have occurred a few days before her death. The man she was dating died in detention in March of this year, and the police are investigating the possibility that Nagano and the man frequently assaulted Saki, and that the assault on her head may have led to her death.
JN8 -JAPANnavi8-
Information site supporting foreigners living in Japan.