Woman dies after falling from running medical inspection vehicle; driver arrested
06/01/2022
GIFU – The driver, a 49-year-old man, was arrested in an accident in which a woman fell from a medical checkup truck and died in Gujo City, Gifu Prefecture.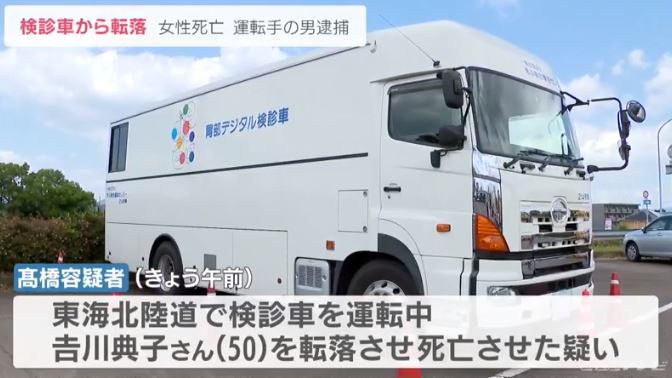 Woman dies after falling from running medical inspection vehicle; driver arrested (TBS News)
The suspect, Masatoshi Takahashi, 49, a health checkup center employee living in Gifu City, was arrested.
According to the police, on the morning of May 31, Takahashi is suspected of causing the death of his colleague Noriko Yoshikawa, 50, who was a passenger in the car, when she fell to her death while driving a medical checkup car on the Tokai-Hokuriku Expressway.
According to the police, Yoshikawa was sitting in the passenger seat, but for some reason she moved and fell through the passenger door on the left side of the car.
Upon investigation, Takahashi admitted to the charges.
JN8 -JAPANnavi8-
Information site supporting foreigners living in Japan.