Vietnamese woman swept to her death in Nagara River, Mino, Gifu, Japan
06/20/2022
GIFU – On the afternoon of the 19th, a Vietnamese woman who was playing in the Nagara River in Mino City, Gifu Prefecture, was swept away and killed.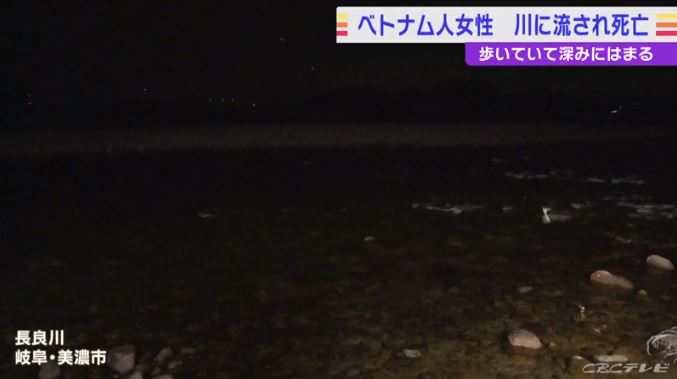 Vietnamese woman swept to her death in Nagara River, Mino, Gifu, Japan (CBC Terebi)
At around 6:10 p.m. on the 19th, one of five Vietnamese women who had come to the Nagara River in Kasagami, Mino City to enjoy the cool of the evening was walking along the shore when she was swept away in the depths of the river.
According to the police, the victim, Pham Thi Mai, 30, a Vietnamese trainee living in the city, was found by firefighters about 50 minutes after the incident at the bottom of a 4-meter-deep river about 5 meters downstream from where she was swept away.
She was taken to the hospital, where he was pronounced dead shortly after.
The water was approximately 1 meter deep and the current was gentle, but there was a sudden deepening at a curve and the river was swirling at the bottom.
JN8 -JAPANnavi8-
Information site supporting foreigners living in Japan.