2-year-old child dies of "heat stroke" after being left unattended for 11 hours 46-year-old grandmother and others arrested
07/01/2022
OSAKA – A 2-year-old girl was left to die in her room in Tondabayashi City, Osaka Prefecture, and the cause of death was found to be heat stroke.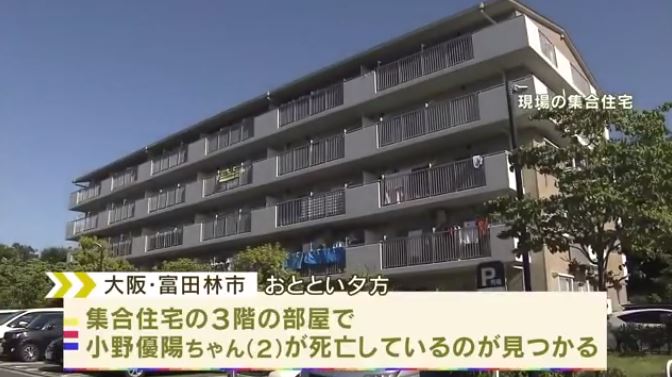 2-year-old child dies of "heat stroke" after being left unattended for 11 hours 46-year-old grandmother and others arrested (TBS News)
On the evening of the 29th, 2-year-old Yuyo Ono, who lived in this room, was found dead in a room on the third floor of a housing complex in Tondabayashi City, Osaka Prefecture.
The police arrested the grandmother, Mayumi Ono, 46, and two others on suspicion of abandonment of a child in protective custody for leaving Yuyo-chan unattended for approximately 11 hours.
According to the police, the autopsy revealed that the cause of death was heat stroke due to dehydration. There was no solid food in her stomach, and it is believed that more than half a day had passed since her last meal.
The air conditioning in the room was set to 28 degrees Celsius and one fan was running. The police are investigating the situation at the time in detail.
JN8 -JAPANnavi8-
Information site supporting foreigners living in Japan.