Two bodies of a couple missing since 2011 found inside a sunken car at bottom of dam
07/06/2022
SHIMANE – Two bodies pulled from the Sanbei Dam in Ota City, Shimane Prefecture, last month were found to be a couple from Fukuyama City, Hiroshima Prefecture, who had been missing since 2011.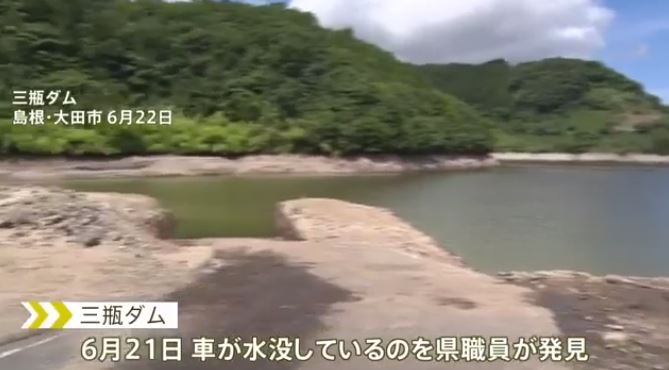 Two bodies of a couple missing since 2011 found inside a sunken car at bottom of dam (TBS News)
According to the police, on the 21st of last month, an employee of Shimane Prefecture found a car submerged in the Sanbetsu Dam in Ota City.
When the police pulled up the car, they found two unidentified bodies in the car, partially skeletonized from decomposition. It is believed that the low rainfall caused the water level in the dam to drop, which in turn caused parts of the car to appear.
The police conducted a DNA analysis and found that the bodies were a couple from Fukuyama City, Hiroshima Prefecture. The car found was a rental car rented in June 2011, and a relative had reported the couple missing that year.
The timing of when the car fell into the dam and the cause of death of the two men are unknown, but police believe it was most likely a suicide.
JN8 -JAPANnavi8-
Information site supporting foreigners living in Japan.