Two metal parts of screw found inside udon noodles in a school lunch in Shizuoka
07/13/2022
SHIZUOKA – On July 12, metal parts from screw were found in the miso udon served as a school lunch for students at a junior high school in Shizuoka City, Shizuoka Prefecture. Two students discovered the metal parts before eating them.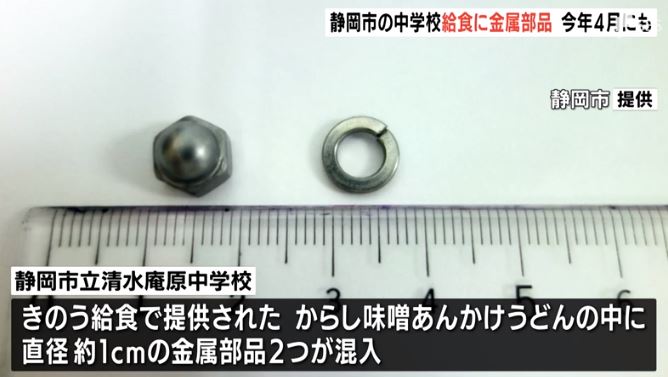 Two metal parts of screw found inside udon noodles in a school lunch in Shizuoka (TBS)
According to Shizuoka City, the screw parts were found in a school lunch at Shimizu Ihara Junior High School in Shizuoka City, the screws measure approximately 1 cm in diameter.
Thankfully, no health hazard occurred since the metal parts were discovered before the two students ate the udon.
The Ihara School Meal Service Center, which prepared the school lunch, checked and discovered that parts of a vegetable slicer were missing.
On the same year last April, metal parts of cooking utensils were also found in school lunches, and the city is considering conducting a simultaneous inspection by a specialized company to prevent a recurrence.
JN8 -JAPANnavi8-
Information site supporting foreigners living in Japan.