Man, arrested for disposing tons of batteries by putting them inside plastic bottles and throwing them into a canal
07/19/2022
KYOTO – A 23-year-old man was arrested for disposing a plastic bottle containing a large amount of dry cell batteries into a canal in Fukuchiyama City, Kyoto Prefecture.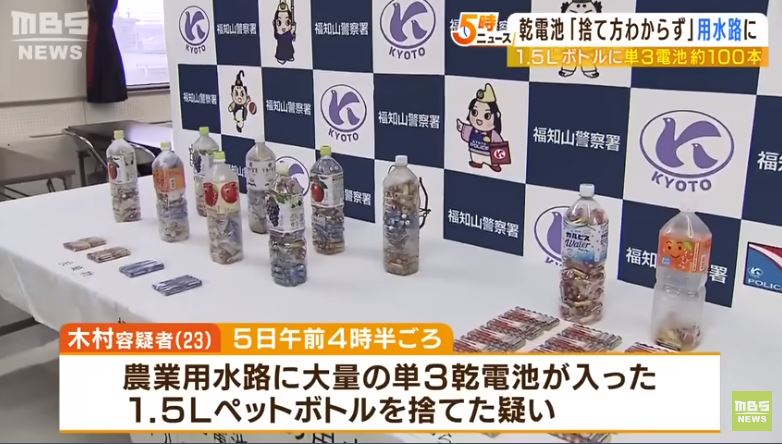 Man, arrested for disposing tons of batteries by putting them inside plastic bottles and throwing them into a canal (MBS News)
Ikumu Kimura, 23, a part-time worker in Fukuchiyama City, was arrested on suspicion of violating the Waste Disposal and Public Cleansing Law. Kimura is suspected of dumping a 1.5-liter plastic bottle containing a large quantity of AA batteries into an agricultural waterway at around 4:30 a.m. on July 5.
According to the police, Kimura used a dry cell mobile battery to charge his cell phone and consumed 40 to 50 dry cell batteries a day.
The suspect Kimura admitted to the interrogation that he threw away the dry cell batteries he used at home because he did not know how to dispose of them.
Since May of this year, more than 20 plastic bottles containing about 100 dry cell batteries have been found in this canal. The police are conducting a detailed investigation, including extra charges.
JN8 -JAPANnavi8-
Information site supporting foreigners living in Japan.