Man, dead after jumping onto the train tracks and got hit by a passing train. 6 people injured after the impact in Kobe
07/20/2022
KOBE – In the evening of July 19, a man jumped onto the tracks at JR Nada Station in Kobe City and collided with a train, which in turn hit a person on the platform. The man died, and six people on the platform were taken to the hospital.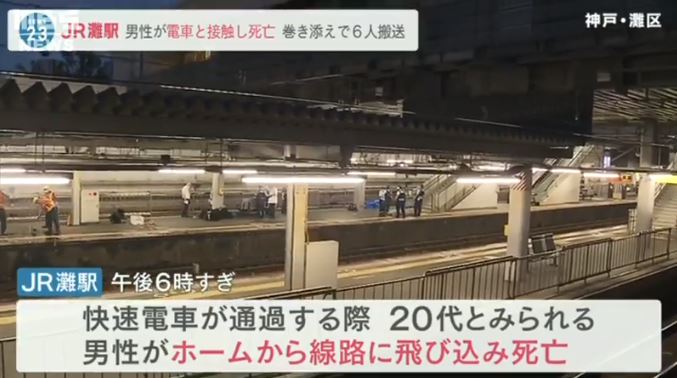 Man, dead after jumping onto the train tracks and got hit by a passing train. 6 people injured after the impact in Kobe (MBS)
According to the police, a man in his 20s jumped from the platform onto the tracks at Nada Station on the JR Kobe Line in Kobe City's Nada Ward shortly after 6 p.m. on the 19th as a rapid train bound for Himeji was about to pass by.
The man was thrown back toward the platform when he was hit by the train and came into contact with four women in their 30s to 60s who were on the platform. Victims were transported to the hospital after being hit hard on the head and face. Two other people, who are passengers on the train complained of feeling unwell and were transported to the hospital.
The police are investigating the detailed situation at the time.
In response to this accident, the Japan Transport Safety Board (JTSB) has dispatched two "Railway Accident Investigators" to investigate the cause of the accident.
JN8 -JAPANnavi8-
Information site supporting foreigners living in Japan.