Father, drowned while trying to save his son in the sea in Tottori
07/25/2022
TOTTORI – On the 24th, a father and his son were swept out to sea on a beach in Yonago City, Tottori Prefecture, and the father died from drowning.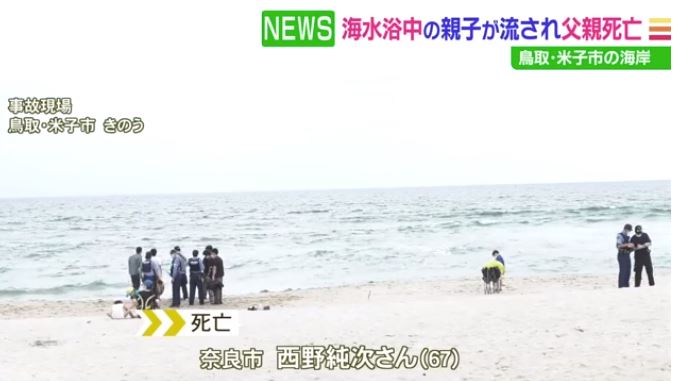 Father, drowned while trying to save his son in the sea in Tottori (TBS)
The deceased was Junji Nishino, 67, a carrier from Nara City, Nara Prefecture, who had come to Yonago City to swim in the sea. Nishino and his son, were found washed out to sea at Yumigahama Beach in Yonago City at around 1:30 p.m. on July 24 by a bather, who called the police.
The person who reported the incident.
"I heard the mother said to the son that it's dangerous to go there. When I called for help, the father went to the sea to rescue his son but unfortunately, only the floatee returned to the shore."
According to the police, they were a family of three swimming at the beach when their 40-year-old son was swept out to sea, and Nishino-san went to the rescue with a floatation device.
Witness.
I think the float came off in the middle and but the father still went into the water. The deeper he went, the higher the waves were, about 2 meters."
The two were rescued and taken to a city hospital, where the father was pronounced dead. Fortunately, the son is conscious.
According to the police, the site was not an established beach, and the waves were 1 meter high at the time of the accident.
JN8 -JAPANnavi8-
Information site supporting foreigners living in Japan.