A series of water accidents in the sea, two people died, including a Filipino Trainee, and a boy drowned in the river
08/01/2022
AICHI – Yesterday, temperatures rose across the country and there were a number of water accidents.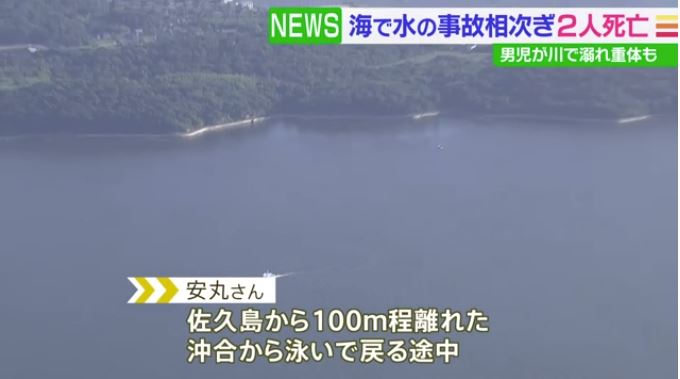 A series of water accidents in the sea, two people died, including a Filipino Trainee, and a boy drowned in the river (TBS)
Motohiro Yasumaru, 37, an office worker from Tokai City, went missing yesterday afternoon while snorkeling with a friend off Sakushima Island in Nishio City, Aichi Prefecture.
After a search by the Japan Coast Guard and other agencies, Yasumaru was found about 4 hours later in the sea about 100 meters from the site, but was later confirmed dead.
Yasumaru and two friends went out to sea by boat and were on their way back to the island when they swam from a spot about 100 meters away from the island.
Meanwhile, at Gotemba Beach in Tsu City, Mie Prefecture, a man went missing while swimming yesterday afternoon, and was found an hour later dead. The man, a 27-year-old Filipino technical intern trainee living in Tsu City, was swimming with a friend 50 meters offshore when he went missing.
In Hamamatsu City, Shizuoka Prefecture, a child drowned in a river yesterday. The drowned boy, believed to be an 11-year-old elementary school student, was rescued by his father and taken to the hospital, where he is in critical condition, unconscious. The boy was playing by the river with his family and 6 friends, and was alone at the time of the accident.
JN8 -JAPANnavi8-
Information site supporting foreigners living in Japan.