Uber Delivery Man Unusually Charged with Striking and Killing 78-Year-Old with Bicycle
01/14/2022
TOKYO – The Tokyo District Public Prosecutor's Office has charged a 28-year-old delivery man with manslaughter for striking and killing a 78-year-old man on his bicycle while delivering Uber Eats.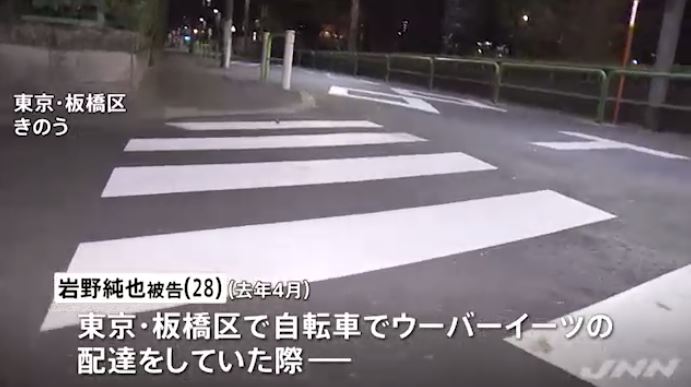 Uber Delivery Man Unusually Charged with Striking and Killing 78-Year-Old with Bicycle (JNN)
According to the Tokyo District Public Prosecutors Office, Junya Iwano, 28, a company employee, is accused of hitting and killing a 78-year-old man crossing a crosswalk while delivering Uber Eats on his bicycle in Itabashi Ward, Tokyo, just after 7 p.m. last April.
The defendant was riding a bicycle without headlights at night and hit a man without checking the safety of pedestrians, even though it was raining and visibility was poor at the time. The man died two days after the accident.
The Tokyo Metropolitan Police Department arrested Iwano on suspicion of gross negligence, and the District Public Prosecutor's Office switched the charge to manslaughter and prosecuted him at home last December. It is extremely unusual to apply manslaughter to a fatal bicycle accident.
JN8 -JAPANnavi8-
Information site supporting foreigners living in Japan.