Man with a knife on board Nagoya city bus arrested on the spot
01/21/2022
AICHI – A man was caught red-handed with a fruit knife inside a city bus stopped at a bus stop in Kita-ku, Nagoya City, yesterday evening.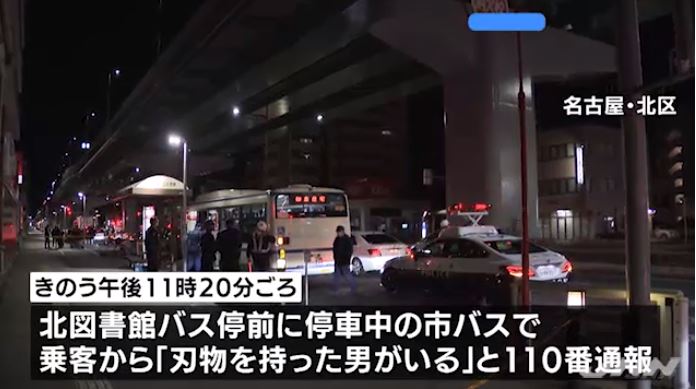 Man with a knife on board Nagoya city bus arrested on the spot (JNN)
At around 11:20 p.m. yesterday, a passenger on a city bus stopped in front of the Kita Library bus stop in Nagoya's Kita Ward called the police to report that there was a man with a knife.
About seven minutes after the call, police arrested Tetsuya Yamada, 43, a self-proclaimed worker in Kita Ward, on suspicion of possession of knives, who was standing in the car with a fruit knife. The 13 passengers and the driver were not injured.
Yamada is believed to have approached the driver with a knife when the car stopped, and admitted to the investigation that "I was messed up, so I did it."
JN8 -JAPANnavi8-
Information site supporting foreigners living in Japan.