24-year-old woman, arrested for killing an 82-year old man inside his hotel room in Ikebukuro hotel, went to karaoke after the crime
01/24/2022
TOKYO – A woman who was arrested for killing an 82-year-old man at a hotel in Ikebukuro, Tokyo, is believed to have gone to a karaoke bar in Kabukicho after the crime with a man she knew who helped her escape.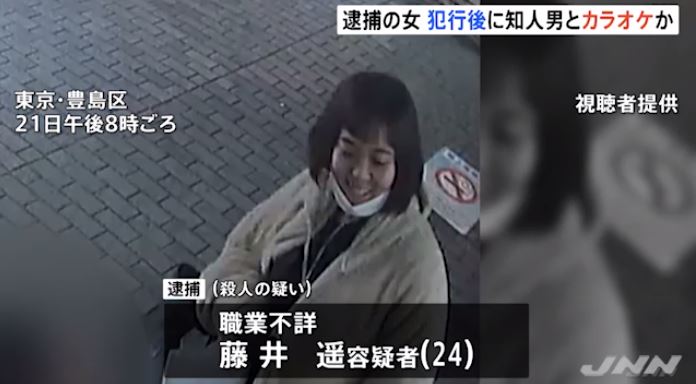 24-year-old woman, arrested for killing an 82-year old man inside his hotel room in Ikebukuro hotel, went to karaoke after the crime
Haruka Fujii, 24, arrested on suspicion of murder, is suspected of killing Katsuzo Konno, 82, by stabbing him in the chest and leg with a box cutter in his hotel room near Ikebukuro Station in Toshima Ward on the night of January 21. According to the Metropolitan Police Department, Fujii is believed to have left the hotel alone after the crime, and then called 110 from a public phone pretending to be someone else.
After calling 110, Fujii met up with his acquaintance Yusuke Kobayashi (29) and his younger brother Shota (25), and the three of them moved to Kabukicho in Shinjuku Ward. Subsequent interviews with investigators revealed that the three men returned to Ikebukuro to check out the area around the hotel, which was cordoned off, and then turned back to Kabukicho to go to karaoke. Yusuke Kobayashi and the other suspects said that Fujii was not in good spirits and did not sing much at karaoke.
On the night of the same day, the three stayed at an internet cafe, headed to JR Nishi-Hachioji Station the next morning, and were arrested when they left the station. The three suspects have admitted to the charges, and the Metropolitan Police Department is investigating the relationship between them in detail.
JN8 -JAPANnavi8-
Information site supporting foreigners living in Japan.