USJ roller coaster emergency stop with passengers near the top
01/24/2022
OSAKA – In the early afternoon of the 22nd, a roller coaster came to an emergency stop with passengers on board at Universal Studios Japan, a theme park in Osaka.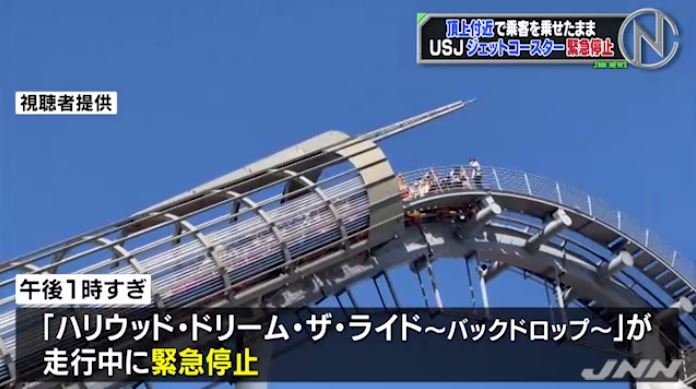 USJ roller coaster emergency stop with passengers near the top (JNN)
Just after 1:00 p.m. on the afternoon of the 22nd, the backward-facing roller coaster "Hollywood Dream the Ride – Backdrop" came to an emergency stop while running at Universal Studios Japan in Konohana-ku, Osaka City.
According to U.S.J., there were about 30 passengers on the roller coaster at the time, and it stopped near the top of the 43-meter high track. They were rescued after about an hour and a half, all the passengers descended to the ground using the stairs attached to the track. Luckily, no one was injured.
The coaster automatically stopped because the sensors installed on the track and other places mistakenly detected that the coaster was out of position. The coaster also had a problem last October when it stopped near the top due to a power failure.
JN8 -JAPANnavi8-
Information site supporting foreigners living in Japan.