35-year-old man arrested for dumping body of 22-year-old woman
01/25/2022
MIYAGI – A 35-year-old man has been arrested for dumping a body in a mountain forest in Miyagi Prefecture. Police are investigating whether the man confined a 22-year-old woman to an apartment in Tochigi Prefecture two years ago, and later dumped her body.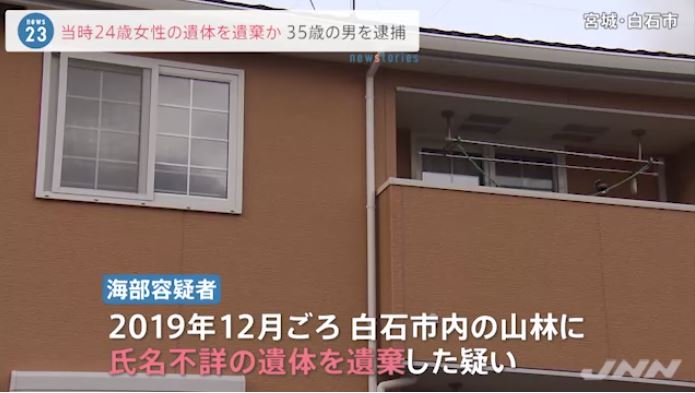 35-year-old man arrested for dumping body of 22-year-old woman (JNN)
Kaifu, 35, an unemployed man from Shiraishi City, Miyagi Prefecture, was arrested on suspicion of dumping the body of an unidentified person in a mountain forest in Shiraishi City around December 2019.
According to the police, the incident came to light when a female acquaintance of Kaifu visited a police station in Tochigi prefecture on the 18th of this month and told them that she and Kaifu had dug a hole and buried the body of a woman two years ago.
Based on the story of this woman acquaintance, the police searched a mountain forest in Shiraishi City and found skeleton parts of the body.
The woman's acquaintance told police that she began living with Kaifu in an apartment in Sakura City, Tochigi Prefecture, around the fall of 2019, that around the same time Kaifu brought the 22-year-old woman and locked her up in his room, but she died, and that she decided to tell him because he would eventually find out.
The police are investigating the circumstances of the woman's death and are in a hurry to confirm the identity of the body, which is believed to be that of a 22-year-old woman.
JN8 -JAPANnavi8-
Information site supporting foreigners living in Japan.