Emergency patient dies when defibrillator battery forgot to be installed and failed to deliver an electric shock
02/02/2022
TOKYO – The Tokyo Fire Department announced that an ambulance crew forgot to turn on the battery of a defibrillator and failed to administer an electric shock to a man in cardiopulmonary arrest. The man was pronounced dead at the hospital where he was taken.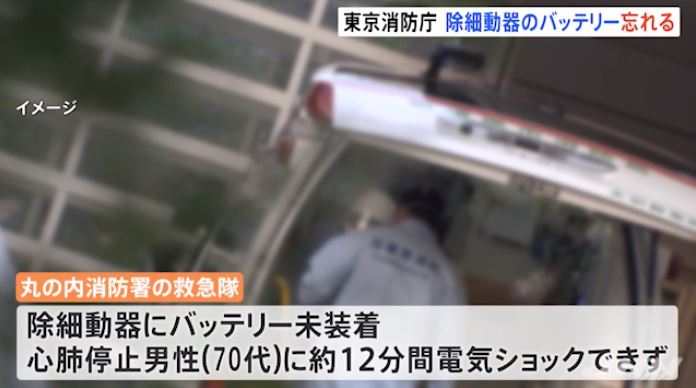 Emergency patient dies when defibrillator battery forgot to be installed and failed to deliver an electric shock (JNN)
According to the Tokyo Fire Department, the day before last, an ambulance crew from the Marunouchi Fire Station forgot to install a battery in a defibrillator. When transporting a man in his seventies to the hospital, he went into cardiopulmonary arrest, but was pronounced dead after arriving at the hospital without electric shock treatment for about 12 minutes.
The doctor in charge of the case said, "Even if the defibrillator had been available, we could not have expected it to be effective. On the day of the accident, there were many emergency situations, and an ambulance that was not in regular use was dispatched.
The Tokyo Fire Department commented, "We will take measures to prevent recurrence and work to restore trust.
JN8 -JAPANnavi8-
Information site supporting foreigners living in Japan.