Large truck falls off bridge, slips due to frozen road surface
02/03/2022
KAGOSHIMA – On the morning of the 2nd, a large truck fell off a bridge on a national highway in Satsumasendai City, Kagoshima Prefecture.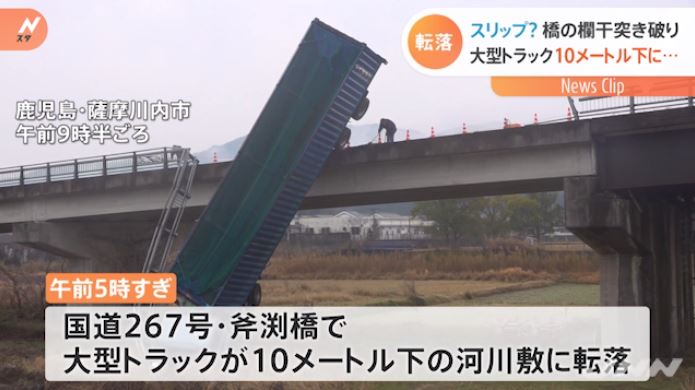 Large truck falls off bridge, slips due to frozen road surface (JNN)
A truck fell off a bridge yesterday, and it broke through the parapet and plunged into the riverbed below.
According to the Satsumasendai Police Station, shortly after 5:00 a.m. on the 2nd, a large truck crashed through the parapet of the bridge at a bridge on National Route 267 in Satsumasendai City. The driver of the truck, a man in his 40s, was not injured and told the police that he slipped on the icy road.
The scene is a gentle curve with one lane on each side, and police are investigating the cause of the accident in detail.
JN8 -JAPANnavi8-
Information site supporting foreigners living in Japan.