Man arrested on suspicion of attempted murder after setting homeless man's clothes on fire in Ameyoko
02/03/2022
TOKYO – A 50-year-old unemployed man was arrested by the Metropolitan Police Department for attempting to kill a homeless man by setting his coat on fire.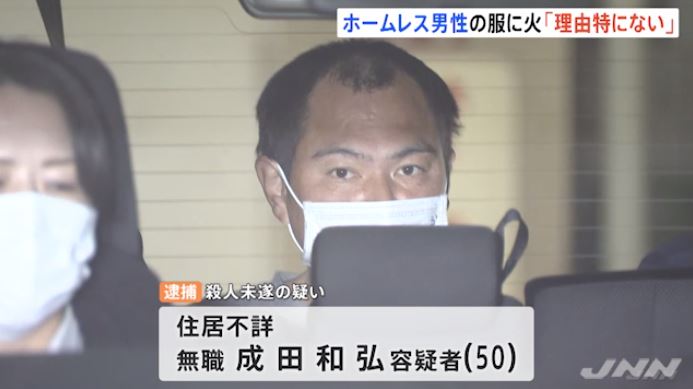 Man arrested on suspicion of attempted murder after setting homeless man's clothes on fire in Ameyoko (JNN)
Kazuhiro Narita, 50, an unemployed man of unknown residence, was arrested on suspicion of attempted murder. He is suspected of attempting to kill a homeless man in his 70s by setting fire to his coat with a lighter on the street in Ameyoko, Ueno, Tokyo, on the evening of January 31.
According to the police, Narita asked the man to go with him to a soup kitchen, but the man refused, and then Narita put his hand behind the man's back and set him on fire.
During the attack, the back of the coat caught fire, but the man was not injured. The suspect, Narita, partially denied the charges, saying, "I didn't intend to kill him.
Also, a man was burned on his head by a burnt jumper in Ueno Park at the end of last year, and the Metropolitan Police Department is investigating the connection if the same man is involved.
JN8 -JAPANnavi8-
Information site supporting foreigners living in Japan.