Woman in her 80s dies after being hit by three cars in Shirai, Chiba
02/08/2022
CHIBA – A woman in her 80s was killed in an accident in which a pedestrian was run over by three cars in Shirai City, Chiba Prefecture, yesterday afternoon.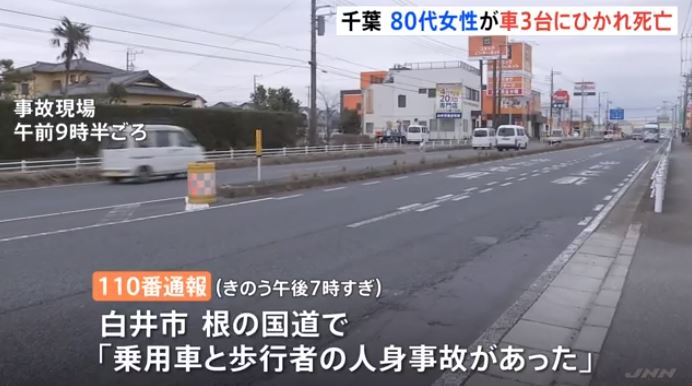 Woman in her 80s dies after being hit by three cars in Shirai, Chiba (JNN)
Shortly after 7:00 p.m. yesterday, an eyewitness called 110 to report that there had been an accident involving a passenger car and a pedestrian on a national highway in Ne, Shirai City. According to the police, a light cargo truck hit a woman in her 80s who was crossing the national road, and when she collapsed, two following passenger cars hit her one after another. The woman was transported to the hospital, where she died.
The scene was a two-lane national highway with good visibility, and there was no crosswalk. In this accident, the police arrested three men and a woman who were driving a light cargo truck and a passenger car on suspicion of manslaughter by negligent driving.
The three men have admitted to the charges, and the police are investigating the details of the accident.
JN8 -JAPANnavi8-
Information site supporting foreigners living in Japan.