Man arrested on attempted murder charge for stabbing woman with kitchen knife on a farm road
02/14/2022
CHIBA – A 29-year-old man was arrested for attempting to kill a woman in her 50s by stabbing her in the face and chest with a kitchen knife as she strolled along a farm road in Chiba Prefecture.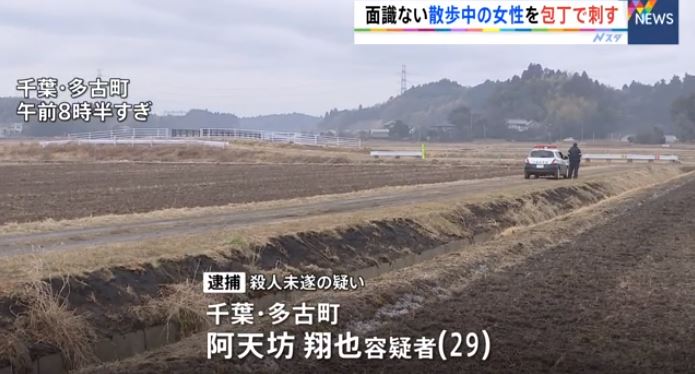 Man arrested on attempted murder charge for stabbing woman with kitchen knife on a farm road (N Star)
The suspect, Shoya, 29, a farmer from Tako Town, Chiba Prefecture, was arrested on suspicion of attempted murder.
According to the police, at around 4:20 p.m. on February 12, Shoya is suspected of stabbing a woman in her 50s, who was walking along a farm road in Tako, Tako Town, in the face and chest multiple times with a kitchen knife in an attempt to kill her. The woman was taken to the hospital, but her condition is not serious.
The two were not acquainted with each other. The suspect then fled in a car, but a woman reported the car's license plate number to the police. The police found Shoya driving in Narita City and questioned him, and he admitted the crime.
During the interrogation, the suspect denied some of the charges, saying, "I didn't mean to kill her," and the police are investigating the details.
JN8 -JAPANnavi8-
Information site supporting foreigners living in Japan.