Three girls dead in Aichi, mother arrested for the crime
02/14/2022
AICHI – Three girls aged 0-5 years old were discovered dead inside their house on February 10. The 27-year-old mother was arrested for murdering her daughters in Ichinomiya City.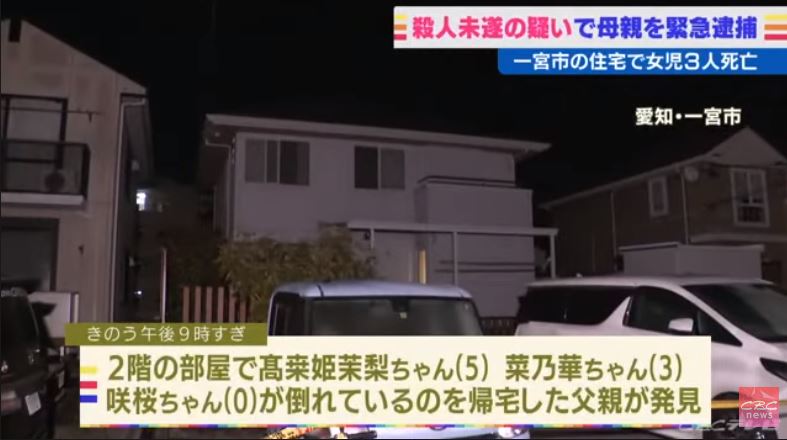 Three girls dead in Aichi, mother arrested for the crime (CBC News)
According to the police, shortly after 9:00 p.m. on February 10, their 34-year-old father found them collapsed in their room on the second floor of a two-story house in Mitsui, Ichinomiya City.
Rescue workers confirmed the deaths of all three girls — Himari, 5, Nanoka, 3, and Sakura — in a living room on the second floor of the home. The three were later pronounced dead by firefighters.
The police urgently arrested the suspect, 27-year-old Himeka Takakuwa, an unemployed mother, on suspicion of attempted murder of 0-year-old Sakura.
The suspect, Takakuwa, was inside the house with cuts on her left wrist and neck, but her injuries are minor.
In response to the police investigation, Takakuwa admitted that she had killed her family, but denied any intention to murder.
JN8 -JAPANnavi8-
Information site supporting foreigners living in Japan.