38-year-old brother for killing his own sister, saying "she asked me to kill her" in Tsu City, Mie
02/15/2022
MIE – Yesterday, a woman was found dead in a house in Tsu, Mie Prefecture, and her brother, who was arrested, stated that he killed her because she asked him to.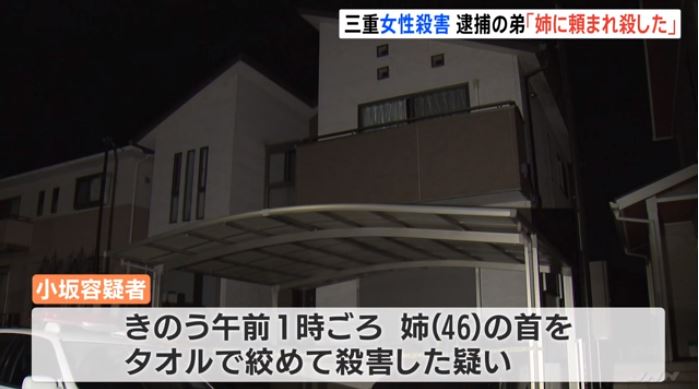 38-year-old brother for killing his own sister, saying "she asked me to kill her" in Tsu City, Mie (JNN)
The suspect, Itsuro Kosaka, 38, a contract worker from Ota-ku, Tokyo, is suspected of killing his 46-year-old sister by strangling her with a towel at around 1:00 a.m. yesterday in Aobadai, Tsu City, Mie Prefecture.
After the crime, Kosaka surrendered to a nearby police box, saying that he had strangled his sister to death. When police officers arrived, they found her dead on her back in the living room of their house.
According to the investigators, in the subsequent investigation, Kosaka said, "My sister asked me to kill her, so I did it."
Kosaka is believed to have come to Tsu by train from Tokyo, where he lives, just before the incident, and the police are working to corroborate his statement.
JN8 -JAPANnavi8-
Information site supporting foreigners living in Japan.