Broker and others arrested for making more than 10 million yen by fraudulently obtaining status of residence
02/16/2022
TOKYO – A broker, who is believed to have earned more than 10 million yen by illegally obtaining status of residence on behalf of his clients, and his client, a Chinese man, have been arrested by the Metropolitan Police Department.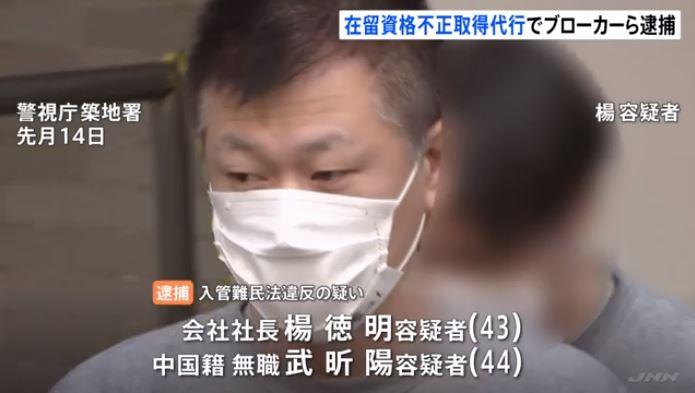 Broker and others arrested for making more than 10 million yen by fraudulently obtaining status of residence (JNN)
The suspects arrested on suspicion of violating the Immigration Control and Refugee Recognition Act are Yang, 43, president of a company in Shibuya Ward, Tokyo, and Wu, 44, an unemployed Chinese national.
The two suspects are suspected of fraudulently renewing Wu's status of residence last year by falsely claiming that Wu, who was actually working as a day laborer, was "running a company. The suspect, Yang, established a fictitious company with Wu as its representative, and made false financial reports.
The suspect, Yang, denies the charges, while the suspect, Wu, admits that he wanted to continue living in Japan. The Tokyo Metropolitan Police Department is investigating the suspicion that Yang, as a broker, has been working on behalf of a total of 11 foreign nationals to apply for false documents since 2018, earning more than 10 million yen.
JN8 -JAPANnavi8-
Information site supporting foreigners living in Japan.