Man slashed at hotel, woman in cardiopulmonary arrest, Nagoya
02/21/2022
AICHI – Two people were attacked inside a hotel in Nagoya yesterday using a knife. One victim had a cardiopulmonary arrest and was rushed to a hospital.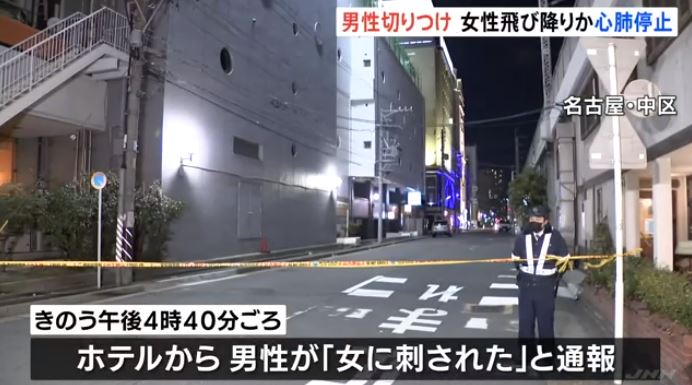 Man slashed at hotel, woman in cardiopulmonary arrest, Nagoya (JNN)
At around 4:40 p.m. yesterday, a man reported to the fire department that he had been slashed by a woman at the Mirage Hotel in Shinsakae, Naka Ward, Nagoya City.
The man, who is believed to be in his twenties and a host, was taken to the hospital after the woman slashed him around the neck with a knife.
Several knives were found in the room, and the woman who is believed to have been slashed was later found collapsed near the hotel and rushed to the hospital in cardiopulmonary arrest.
Police are investigating the relationship between the two victims and the circumstances at the time on suspicion of attempted murder, believing that the suspect jumped from the hotel after cutting the man.
JN8 -JAPANnavi8-
Information site supporting foreigners living in Japan.