Man, arrested for posing as a movie producer and having auditionees kiss each other on set
03/02/2022
TOKYO – A man has been arrested for posing as a movie producer and indecently assaulting an aspiring actress. The man held a fake audition and handed her a script that said, "The two of you are going to kiss each other hard.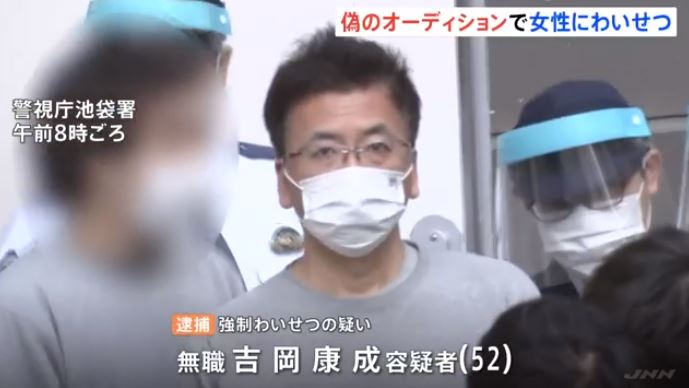 Man, arrested for posing as a movie producer and having auditionees kiss each other on set (JNN)
Yasunari Yoshioka, 52, an unemployed man, was arrested by the Metropolitan Police Department on suspicion of indecent exposure. He is suspected of posing as a movie producer and touching the breasts and lower body of a woman in her 20s, an aspiring actress, at an apartment near JR Ikebukuro Station in January this year.
According to the Tokyo Metropolitan Police Department, Yoshioka held an audition under the false pretense of selecting actors for a movie, handed out a script stating that the two would kiss each other violently, and engaged in indecent acts.
The suspect, Yoshioka, has denied the charges, but many similar scripts were found in his house, and the Metropolitan Police Department is investigating him for additional crimes.
JN8 -JAPANnavi8-
Information site supporting foreigners living in Japan.