21-Year-Old Woman Killed When Hit by Drunk Driver; Man Arrested for Dangerous Driving
03/14/2022
CHIBA – A man was arrested for driving a car while intoxicated and hitting a 21-year-old woman riding a bicycle. The woman later died.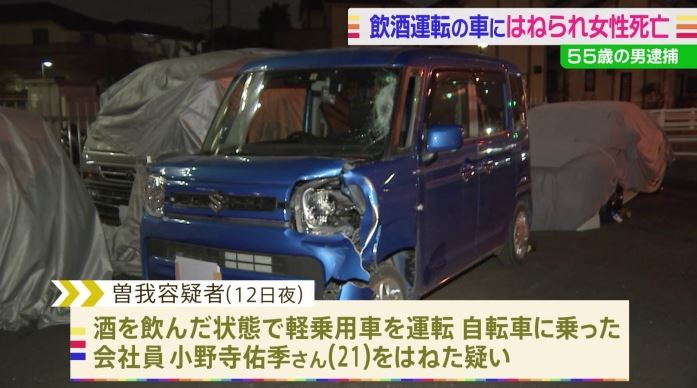 21-Year-Old Woman Killed When Hit by Drunk Driver; Man Arrested for Dangerous Driving (TBS News)
Yasuyuki Soga, 55, a company employee in Matsudo, Chiba Prefecture, was arrested on suspicion of dangerous driving injury.
The suspect, Soga, is suspected of driving a car on a street in Matsudo City around 10:30 p.m. yesterday (March 12) and hitting 21-year-old Yuki Onodera, a company employee riding a bicycle, despite the fact that he was under the influence of alcohol and in a state where normal driving is difficult.
Onodera was rushed to the hospital, where he was pronounced dead today (13th).
According to the police, the suspect Soga hit Onodera's bicycle from behind, which was running in front of him on the same roadway.
The suspect, Soga, admitted to the charge that he "definitely caused the accident after drinking alcohol," and stated that he thought he was looking ahead but did not notice the bicyclist.
JN8 -JAPANnavi8-
Information site supporting foreigners living in Japan.