46-year-old man arrested for stabbing father to death with knife in Fukui City
03/15/2022
FUKUI – A 46-year-old man was arrested for stabbing his father with a knife at a house in Fukui City on March 13 afternoon. The father later died in the hospital.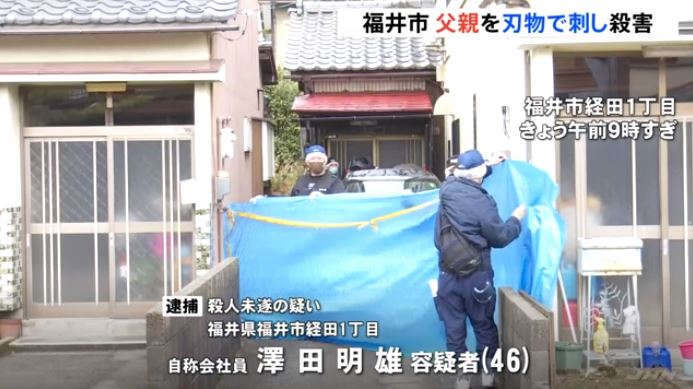 46-year-old man arrested for stabbing father to death with knife in Fukui City (JNN)
The suspect, 46-year-old Akio Sawada, a company employee from 1-chome, Kyoda, Fukui City, arrested on suspicion of attempted murder.
According to the police, Sawada is suspected of stabbing his father, Hiromi, 74, in multiple places, including the chest, with a kitchen knife at around 1:00 p.m. on March 13 in their home, and attempting to kill him.
Sawada reported himself to the police, saying that he stabbed the suspect with a kitchen knife. The police officer who arrived at the scene found Hiromi collapsed in the first-floor dressing room, he was quickly brought to the hospital but later died.
Sawada lives with his parents. The police have changed the charge to murder and are investigating the motive for the crime.
JN8 -JAPANnavi8-
Information site supporting foreigners living in Japan.