Evacuees from Ukraine to Japan to Change Status of Residence to Allow Long-Term Stay and Work
03/15/2022
In order to allow refugees from Ukraine to work and stay in Japan for an extended period of time, the government has announced that it will accept, on an exceptional basis, a change of status of residence. This is the second country, after Afghanistan, to do so.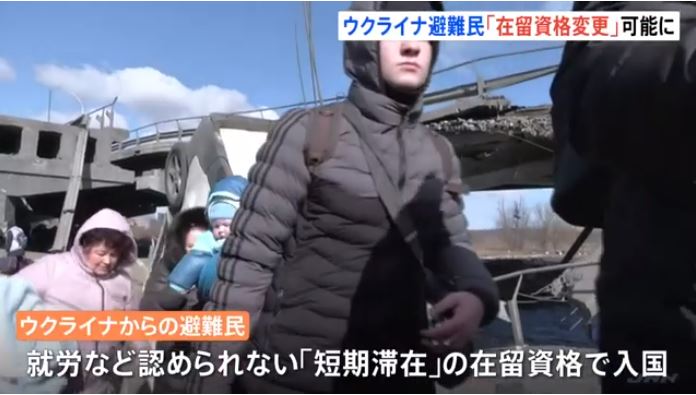 Evacuees from Ukraine to Japan to Change Status of Residence to Allow Long-Term Stay and Work (TBS News)
The refugees from Ukraine to Japan are currently entering the country with "Temporary Visitor" status, which does not allow them to work or other activities.
The Ministry of Justice announced today that it will accept applications to switch to the status of "Designated Activities," which allows a one-year stay and work permit, after entry into Japan.
This procedure is normally not allowed after arrival in Japan, but the Ministry of Justice has determined that the current situation in Ukraine constitutes a situation in which an exception can be made.
Afghanistan is the only country in the world's conflict zones where a similar response is currently being taken on a country-by-country basis, and Ukraine is the second country to do so.
Justice Minister Furukawa emphasized the "humanitarian" nature of this exceptional response to the displaced Ukrainians.
JN8 -JAPANnavi8-
Information site supporting foreigners living in Japan.