Man Sentenced to 20 Years in Prison for Repeatedly Abducting and Sexually Assaulting Junior High School Girls
03/23/2022
TOCHIGI – A man who took two girls to his home and repeatedly sexually assaulted them by putting collars and chains on them was sentenced to 20 years in prison for kidnapping a minor, forcible sexual intercourse, and violation of the Child Pornography Law.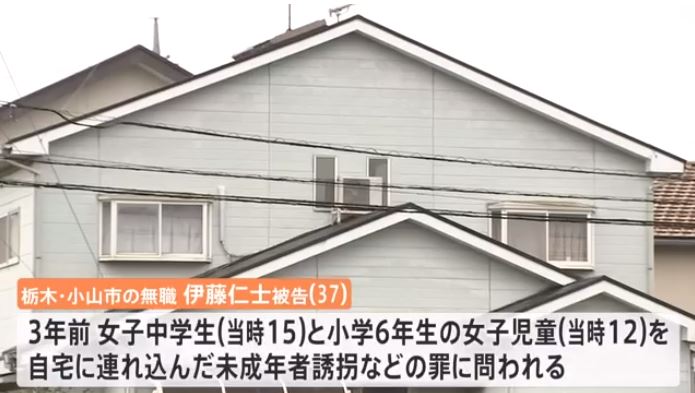 Man Sentenced to 20 Years in Prison for Repeatedly Abducting and Sexually Assaulting Junior High School Girls (TBS News)
Unemployed defendant Hitoshi Ito, 37, of Oyama City, Tochigi Prefecture, is accused of kidnapping a minor and other crimes for successively luring a junior high school girl (then 15) from Ibaraki Prefecture and a sixth grade girl (then 12) from Osaka City who had hinted on Twitter three years ago that she wanted to commit suicide, and taking them to his home.
The prosecution had sought 24 years in prison for the junior high school girl, whom they had kept under their control at their home in Oyama City for about six months, for "kidnapping a girl for indecent purposes in an attempt to turn her into a sex slave," which they said was "an act of an animal that tramples on human dignity.
The defense had argued that the two were taken into custody to protect their lives and not kidnapped, and that an emergency evacuation was warranted. However, in today's ruling, the Mito District Court pointed out that "it is clear that luring the two with sweet talk and keeping them away from their normal living place for six months under control constitutes kidnapping.
He further admitted that with regard to the first victim, a junior high school girl, he "assaulted her by punching her multiple times in the face and making her unable to resist, saying, 'Do you want a master-slave relationship or a relationship like an equal husband and wife?' He then committed indecent and lewd acts on her.
He also condemned the practice of wearing collars and chains on junior high school girls, insulting graffiti on their bodies, and photographing them to create 161 pieces of child pornography, calling it "an ugly act that shows no regard for the human dignity of junior high school girls.
The presiding judge sentenced Ito, who listened to the verdict with his arms folded, to 20 years in prison, stating that he "repeatedly made unnatural excuses and showed no remorse," and that he "must be sentenced to a considerably longer term.
JN8 -JAPANnavi8-
Information site supporting foreigners living in Japan.