Man, arrested for handcuffing and molesting girlfriend because she's breaking up with him
03/23/2022
TOKYO – A company employee was arrested by the Tokyo Metropolitan Police Department for handcuffing his former girlfriend, confining her in his home for three days, and sexually assaulting her.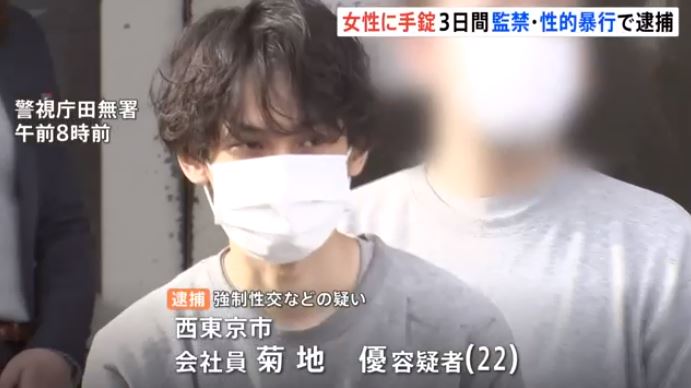 Man, arrested for handcuffing and molesting girlfriend because she's breaking up with him (TBS News)
Yu Kikuchi, 22, a company employee in Nishi-Tokyo City, was arrested on suspicion of forcible sexual intercourse, etc. He is suspected of confining a woman in her 20s in his apartment and sexually assaulting her for three days from the 16th of this month.
According to the police, Kikuchi covered the woman's eyes and mouth with adhesive tape and handcuffed her hands to prevent her from escaping.
When the woman went outside after being told by Kikuchi that she could go out for an hour, she used her smartphone to ask a friend for help, and the incident was discovered.
Kikuchi and the woman met on a matching app late last year and had been dating for a while.
JN8 -JAPANnavi8-
Information site supporting foreigners living in Japan.