(PH) 50% OFF sa padala sa Pilipinas with Sendy Remit Promo!
(PH)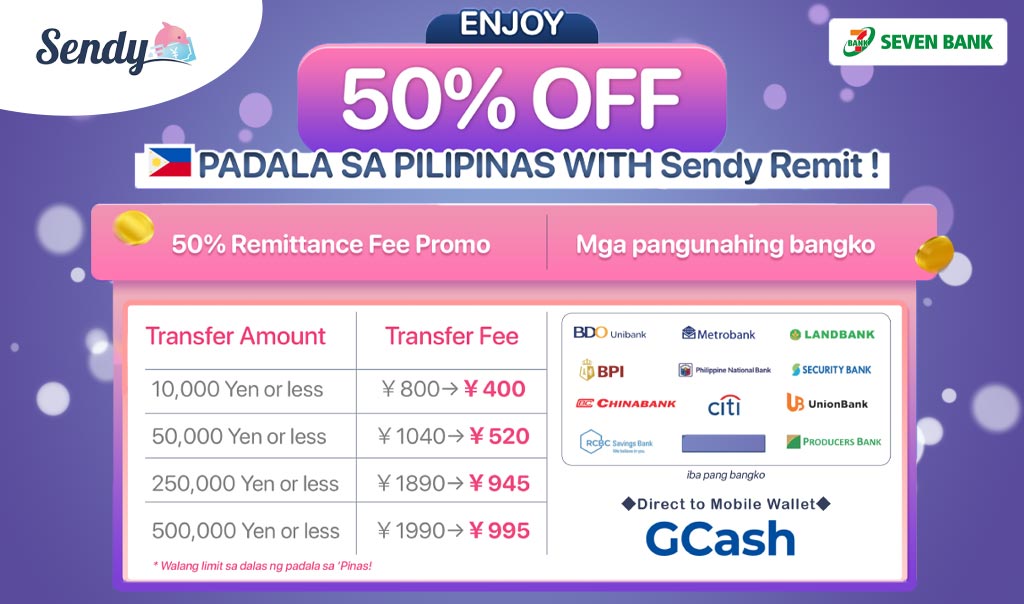 As a token of our gratitude to our customers who are sending money to the Philippines, our promo will run on the following dates.
Grab this chance to send money at affordable fees! Don't miss this chance, padala na now♪
50% REMITTANCE FEE PROMO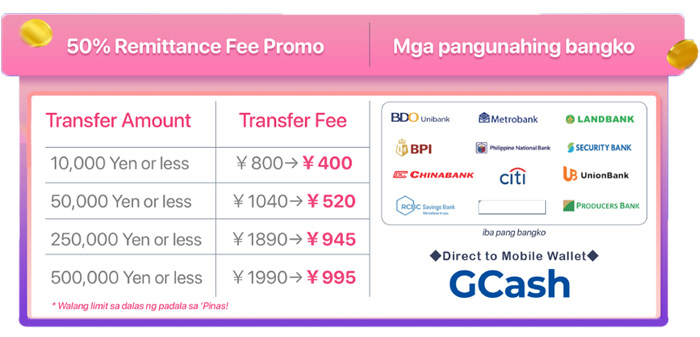 Eligibility : Simply send money on the above promo dates and your remittance fee will be automatically at half a price of the normal fee!
* There are no restrictions on the transfer amount of money or the number of remittances.
PROMO PERIOD

Promo Period: October 5, 15, 25, 30, 2022   |   November 5, 15, 25, 30, 2022
Mas makakatipid kapag nagpadala sa araw na may promo! 50% OFF! Automatic na kalahati ang presyo ng padala!
DISCLAIMER
* Entry for this promo is not required.
* This promo will not be applicable if there is any fraudulent activity or any activity that violates our international money transfer policy rules ,or if we determine that those activities are against the purpose of operation.
* Please note that the promo period and contents may be changed or canceled without prior notice.
* The maximum amount per remittance to the Philippines specified is 500,000 yen, but there may be an upper limit on remittance, so please check with the receiver's account details before making remittance procedures. In particular, if you are sending money to GCASH and Cebuana Lhuillier Bank, please check before sending money to make sure that you have not exceeded the maximum amount the account can receive.
I-DOWNLOAD NA ANG SENDY APP!
Mas pinadali na at convenient ang pagpapadala ng pera. Hatid sa inyo ng Sendy! Sa isang tap lang ay makikita mo na ang exchange rate, at gamit lang ang iyong smartphone, makakapagpadala ka na ng pera sa iyong mga mahal sa buhay! I-download na ang Sendy app!
Ang Sendy ay 100% subsidiary ng Seven Bank, serbisyong hatid ng Seven Global Remit.

Click to download Sendy app on the App Store

Click to download Sendy app on Google Play Store
FOLLOW SENDY ON THEIR SNS
I-follow na and Sendy sa kanilang Facebook account para sa mga promotion at mga updates tungkol sa kanilang serbisyo.

Click to access Sendy Philippines Facebook Page