JOB No KMT-KCD-OS001-EN
Motorcycle Parts Manufacturing Staff
¥1,700/hour
Kumamoto, Kikuchi District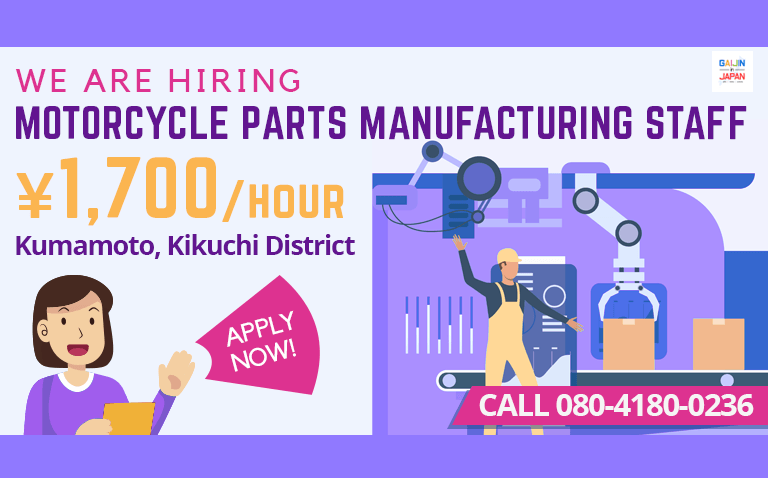 ■Job Description
Work associated with the manufacture of motorcycle parts Pressing process ・Management of processes and checking of products Welding process ・Assistance work such as setting parts on the manufacturing machine Painting process ・Checking the appearance before and after the painting process Assembly process ・Assembling parts to the body This is the only process that requires manual work. Inspection process ・Assisting inspection process
■Employment Status
Dispatch Staff (Hakenshain)
■Place of Work
Kumamoto, Kikuchi District
■Mode of Transportation
By Car, Bicycle, Public Transportation
■Prerequisite
Intermediate Japanese Level
■Preferential Conditionn
※ For male and female applicants
※ Up to 50 years old may apply
■Working Hours
Shift: Day shift① or 2-shifting ①②, or 3-shifting ①②③
① 07:00 - 15:45
② 15:35 - 00:00
③ 08:00-17:00
④ 23:50 - 07:10
■Holiday・Vacation
Saturday, Sunday
★122 days off per year★
※According to the company calendar
【Other long vacations available】
Golden Week
■Welfare benefits
●Retirement benefits available
●Full social insurance
●Overtime, late-night and leave allowances
●Paid Transportation expenses
●Paid vacation leaves
●Free rental of work clothes
※Each benefit is subject to regulations.
■Remarks
Work Location: Around Otsu-cho, Kikuchi-gun, Kumamoto Prefecture
Nearest Station : Higo Ozuu Station on the Hohi Main Line
Means of Commuting : By Car
Commuting time: 10 minutes
20 minutes by car from Aso Kumamoto Airport
There is a free parking lot outside the factory.
JN8 -JAPANnavi8-
Information site supporting foreigners living in Japan.