JOB No WKY-INM-OS001-EN
Electronic Components Machine Operator
¥1,700/hour
Wakayama, Hidaka County, Inami Town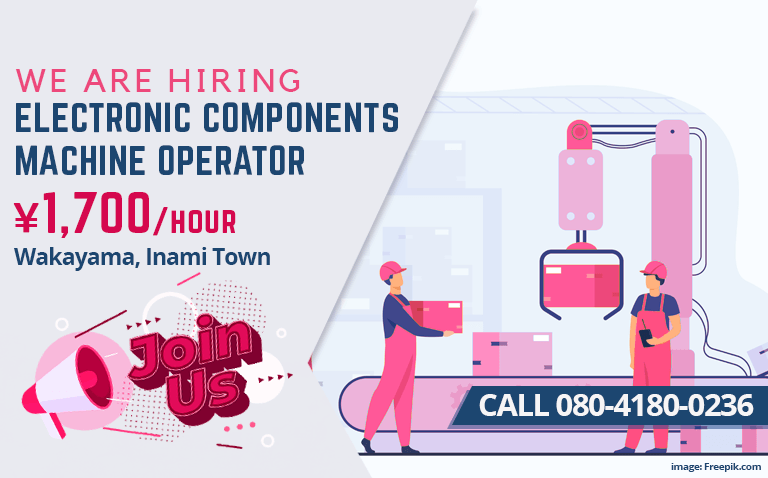 ■Job Description
Manufacture of electronic components The main tasks are machine operation and material supply! ・Machine operator work to set raw materials in the machine and press the switch ・Transportation of materials related to the manufacture of electronic components ※There is no heavy work. ・Packing and transportation of finished products. ・Cleaning duties around the work area ・PC input duties for work records
■Employment Status
Dispatch Staff (Hakenshain)
■Place of Work
Wakayama, Hidaka County, Inami Town
■Mode of Transportation
By Car, Bicycle, Public Transportation
■Prerequisite
Japanese level 40% OK!
■Preferential Conditionn
※ For male and female applicants
※ Up to 50 years old may apply
■Working Hours
Shift: 2-shifting schedule
① 08:00 ~ 17:40
② 20:00 ~ 05:40
③ 08:00 ~ 17:10
④ 20:00 ~ 05:10
■Holiday・Vacation
Other
4 shifts, 2 rest days
★125 days off per year★
※According to company calendar
Other long vacations available
Golden Week, summer vacation, winter vacation
■Welfare benefits
●Retirement benefits available
●Full social insurance
●Overtime, late-night and leave allowances
●Paid Transportation expenses
●Paid vacation leaves
●Free rental of work clothes
※Each benefit is subject to regulations.
■Remarks
Work Location : Wakayama Prefecture, Inami Town
Nearest Station : Wasa Station
Means of Commuting : By Car
Commuting Time : 15 minutes
30 minutes by car from Hanwa Expressway Gobo Minami IC
Free shuttle service is available from Gobo Station.
There is a free parking lot in the factory site.