Katutubo Philippine Restaurant, sumptuous and Instagrammable Philippine Restaurant in Iwakura City!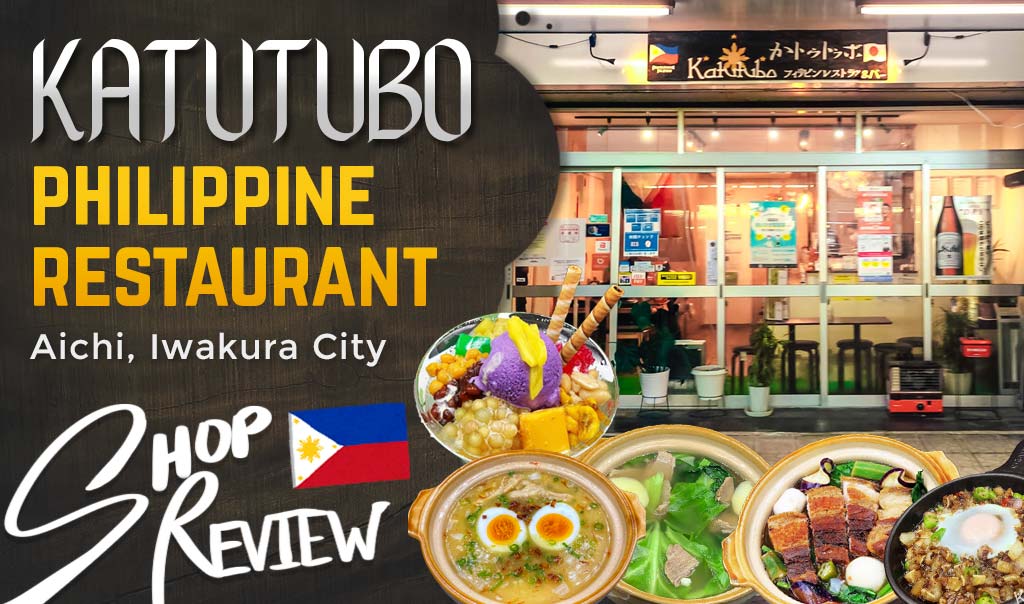 Do you know that there is a good and instagrammable Philippine restaurant in Iwakura City? Here at Katutubo Philippine restaurant, not only the locals come to dine-in, even customers who lives far away visits the place because of their delicious cooking and beautiful presentation of dishes!
Katutubo Philippine Restaurant started April 21, 2019, and they continue to thrive and serve sumptuous Philippine dishes not just for our fellow Filipinos, but also for other nationals so they can enjoy the delicious Philippine cuisines!
Let's find out more about the restaurant and their grocery store!
KATUTUBO PHILIPPINE RESTAURANT
Katutubo Philippine Restaurant in Iwakura City has a lot to offer. Just by looking at the photos would make you want to eat! Some of their best-sellers are Kare-kare, Bagnet, Bulalo, and their original BBQ. We tried their kare-kare and pork binagoongan when we came to visit and I'm definitely coming back again and bring my family!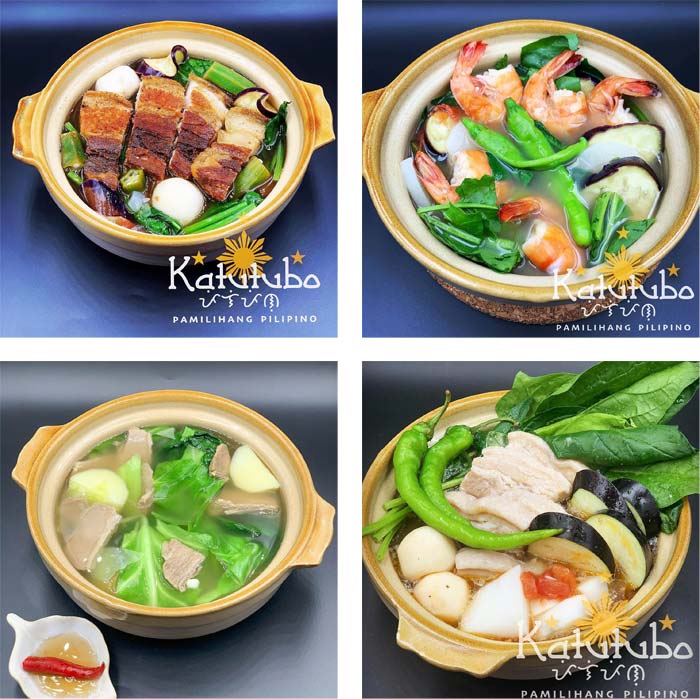 Their chef prepares the foods with excellent presentation! Come and eat at Katutubo Philippine Restaurant~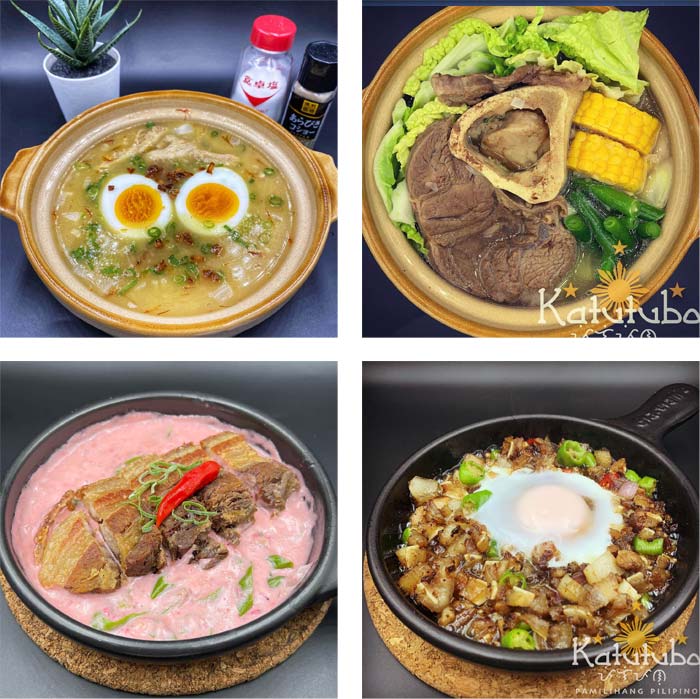 Also, one of their best is Katutubo's special halo-halo! It comes with home-made ube ice cream and it's full of different ingredients, very flavorful! Their Halo-halo is seasonal so I suggest checking out their facebook page to get updated.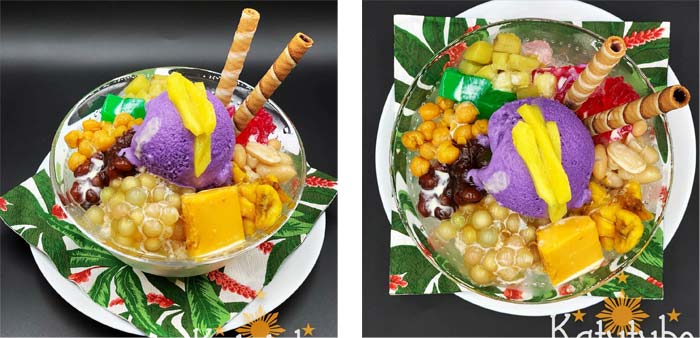 KATUTUBO TABEHOUDAI EAT-ALL-YOU-CAN
Katutubo Philippine Restaurant is also known for their tabehoudai eat-all-you-can service! Their tabehoudai is available every week and it is 1,350 yen per person, good for 60 minutes.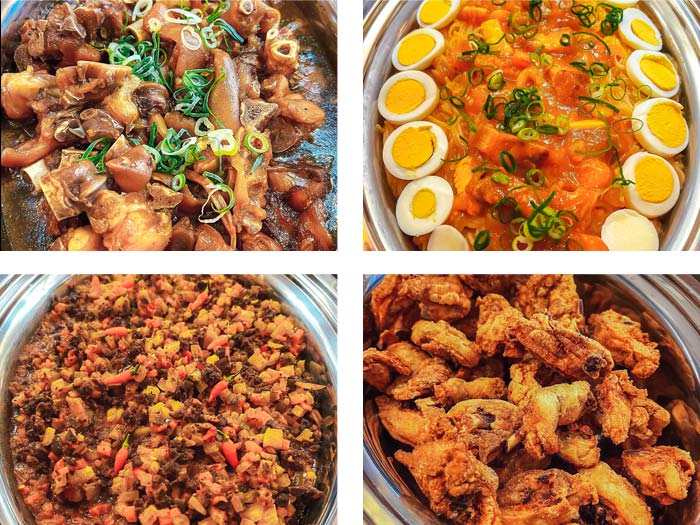 They have a lot different selections of dishes so you'll be able to try a lot~

Katutubo also serves home-made desserts! A lot of customers enjoy their sweets after making their tummies full from the dishes. They serve leche flan, buko pandan, macarons, yema cake, fruit salad, and a lot more! They also serve original home-made ice cream, which we're able to try and it was so good!
DELIVERY AND TAKE OUT SERVICES
The restaurant is also open for deliveries and take-outs. You can order via Didi food and Demae Can applications on your phone so you can have the foods delivered to your home.

They also have ready to take-out foods which they usually sell on their grocery store, Mang Colas x Katutubo Store. They also have take-out meals or sweets which depends on the day.
CATERING AND EVENT SERVICES
Katutubo Philippine restaurant accepts caterings. They are already known on the area so a lot of customers ask for them for caterings. They also accept event services for customers who wants to dine-in at their place for celebrations.

You can check out their official facebook page for inquiries.
RESTAURANT AMBIENCE
The restaurant is very comfy and clean. It gives off Philippine restaurant vibes + Japanese style Open kitchen area, same as those from ramen shops. Due to this, some Japanese people frequents the restaurant as well. The place is welcoming and you'll be able to see the chef making your food.

The place can cater up to 16 persons all dining at the same time, and during busy days, the restaurant sets tables outside which can cater up to 20 more people.
MANG COLAS X KATUTUBO PHILIPPINE STORE
Just beside the restaurant lies Mang Colas x Katutubo Philippine store. Your one-stop shop for Philippine supplies and foods!
Please click the link below to learn more about their grocery store:
https://jn8.jp/en/topics_list/8805/
HOW TO VISIT KATUTUBO IWAKURA PHILIPPINE RESTAURANT
Katutubo Philippine Restaurant is very accessible. It just takes 5 minutes driving by car from Iwakura Station, and 13 minutes walk.
The restaurant is close to Nafuco Fujiya Supermarket. The complex is wide and they have spacious parking space so you won't have to worry where to park your car.
KATUTUBO PHILIPPINE RESTAURANT ADDRESS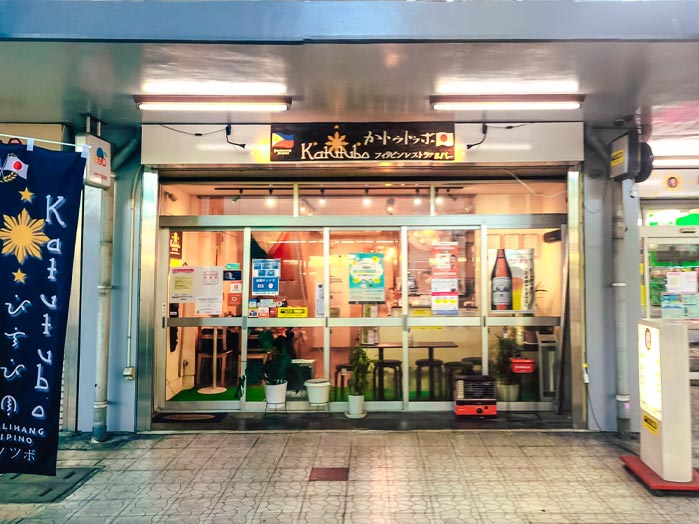 KATUTUBO PHILIPPINE RESTAURANT Iwakura City, Aichi
MON ~ SAT 11:00 ~ 20:00 | SUNDAY 11:00 – 19:00
State of Emergency Schedule: 12:00~20:00
CLOSED EVERY WEDNESDAYS
TEL: 0587-22-8262
〒482-0001 Aichi Prefecture, Iwakura City, Higashi Shin Machi, Kamano Kuchi Iwakura Danchi 1-163-6
Mang Colas x Katutubo Philippine Store Facebook Page: LINK
ARTICLE RECOMMENDATION
● Mang Colas x Katutubo Philippine Store
JN8 -JAPANnavi8-
Information site supporting foreigners living in Japan.