What are the benefits of lemon water in your body?
Why Lemon Water?
Lemons are packed like a clown car full of surprise! With nutrients, including vitamin C, B-complex vitamins, calcium, iron, magnesium, potassium, and fiber. They even contain more potassium than apples or grapes!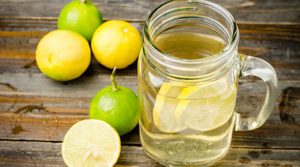 1. It promotes hydration
Adding lemon to your water can enhance the flavor and will make you more likely to drink your fill if you find plain water boring.
2. Source of Vitamin C
Lemons also provide potassium and vitamin C. They are low in sugar, so they won't add many extra carbs or calories to your water. Vitamin C may reduce your risk of cardiovascular disease and stroke, and lower blood pressure.
3.Help you loose weight
Lemons contain pectin fiber, which assists in fighting hunger cravings.
4.Keep your skin blemish-free/Improves skin quality
The antioxidants in lemon juice help to not only decrease blemishes, but wrinkles too! Vitamin C found in lemons may help reduce skin wrinkling, dry skin from aging, and damage from the sun.
5.Promotes digestion
Some people drink lemon water as a daily morning laxative to help prevent constipation. Drinking warm or hot lemon water when you wake up may help get your digestive system moving.
6.Freshen your breath
You might avoid bad breath by drinking a glass of lemon water after meals and first thing in the morning. Lemon is thought to stimulate saliva and water also helps prevent a dry mouth, which can lead to bad breath caused by bacteria. It helps relieve toothaches and gingivitis. 
7.Helps to prevent kidney stones
The citric acid in lemons may help prevent kidney stones. Citrate, a component of citric acid, paradoxically makes urine less acidic and may even break up small stones. Drinking lemon water not only gets you citrate, but also the water you need to help prevent or flush out stones. And it helps flush out the toxins in your body by enhancing enzyme function, stimulating your liver. 
Drinking lemon water is one of the most substantial yet simple changes you can make for your health.
Source: Healthline, Lifehack