Bake it with you by Danmel Online Bakeshop
Have you already tried ensaymada here in Japan? Bake it with you by Danmel is a growing online bakeshop started July 4, 2020, around the start of the pandemic.
They started small but they continue to grow their business that started from selling ensaymadas to brownies, etc. They continue to deliver excellent service and continue to get known as a legit ensaymada bakeshop in Japan.
DELICIOUS PHILIPPINE ENSAYMADA
Bake it with you by Danmel has 4 different ensaymada flavors to choose from. They have their famous Classic Ensaymada, Yema Ensaymada, Ube Cheesedesal, and Special Ensaymada. According to the owner, it takes up to 5 hours to create their delicious ensaymadas.
We've tried all their ensaymadas and I say that their original 'Classic Ensaymada' is the one for me. I love the cheesines and the softness of the bread, and it makes me remember the days when I eat ensaymada for merienda after playing outside one summer.
They also have their 'Special Ensaymada', which they call special because it has an ube filling inside! It's their very own style of ube filling ensaymada and is a must try!

Aside from the two mentioned, they also have 'Ube Cheesedesal', literally Ube Cheese Pan de sal. Ube cheese pan de sal became a big hit on social media because of its taste. Their Ube Cheesedesal is also good! Perfect for ube lovers!
Lastly, their 'Yema Ensaymada'. You'll experience ensaymada's cheesyness while enjoying a good amount of yema flavor and yema fillings! Definitely one of the best!

PRICES
| | |
| --- | --- |
| Special Ensaymada | ¥1200 |
| Yema Ensaymada | ¥1200 |
| Classic Ensaymada | ¥1200 |
| Ube Cheesedesal | ¥1200 |
HOW TO ORDER AT BAKE IT WITH YOU
Bake it with you by Danmel regularly posts on their social media accounts. Since making the breads takes time to do, they do pre-orders at least a week before their production day. You can follow their social media accounts to be updated on their pre-order dates.

They offer delivery service within Japan so don't worry if you live outside Gifu Prefecture. Bake it with you is always ready to serve you!
DISCOUNTS AT PROMOS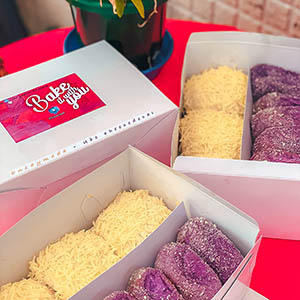 For orders more than 10 boxes, the regular price will be reduced to ¥1000 per box. They also do events and promos so follow them on their social media page!
BAKE IT WITH YOU BY DANMEL ONLINE BAKESHOP CONTACT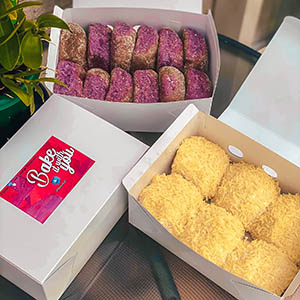 Bake it with you by Danmel
Order Method: Thru Facebook Page or Phone
TEL: 080-3657-5098
Bake it with you by Danmel Facebook Page: https://www.facebook.com/danjayrus